Bath Tub, Tile & Counter Top Refinishing
Since our family started in the bathtub refinishing business, we have seen many refinishing companies come and go. We are still here, getting bigger and better each year. Utilizing our experience and knowledge, we follow strict guidelines and use the highest quality synthetic porcelain available (not paint) to refinish a bathtub.
Is your bathtub dirty and cracked rusted worn out or the dated old color? You don't have to spend thousands of dollars on tub liners or remolding your bathroom. You just need to refinish the tub!
How much does it cost?
To replace a bathtub, you would need to call in a professional tile setter, a new bathtub, new vanities, a plumber, an electrician and numerous permits from your local government. That also not taking into account the noise, dirt and other nuisances that go hand in hand with remodeling projects.
Is a no brainer that it is a lot cheaper to hair a professional refinishing service? We do the job for a fraction of the cost. Here is the biggest difference and one of the biggest benefits of professional bathtub refinishing over bathtub replacement, you don't have to be without a shower for long. With a replacement service you will have days without a working shower. With a refinishing service it will take approximately 4 hours to complete everything and you will be able to use your bathroom in 24 hours or less.
BATHTUB REFINISHING
LABOR $250.00-$370.00
STEEL TUB $0
PLUMBER $0
TILE WORK $0
FLOORING $0
PERMITS $0
TOTAL ONLY $250.00-$370.00!
BATHTUB REPLACEMENT
LABOR $700.00
STEEL TUB $300.00
PLUMBER $400.00
TILE WORK$500.00
FLOORING $300.00
PERMITS $200.00
TOTAL ABOUT $2400.00!
You don't need to replace your tile if there are a few chips or cracks!
Professional refinishing is an inexpensive alternative that will fit any budget and will make your bathroom or kitchen sparkle. Tubz professionally finishes your bathroom tiles, kitchen tiles, countertops, wall tiles and fiberglass shower stalls and pans.
Chipped and cracked tiles attract dirt. Especially in wet environment mold and mildew can began to grow in the cracks. Eventually this leads to more problems for you. Refinishing your bathroom tiles and other surfaces is an economical and practical alternative to replacement. Buying new tile can be expensive and the process of remolding and installing new tile is something you want to avoid for as long as possible.
If you have chipped or cracked tile or are looking to update the color, ask us about professional tile resurfacing services. We use specialized fillers to fill in any cracks, holes or missing grout lines. Once the surface is glazed the job is done. Your tile will look new and will be easy to clean with a mild liquid cleaner.
We offer several different looks, your choice of a smooth gloss, medium gloss or a textured look and feel. We also have 50 colors to choice from. If you were thinking of granite, marble or a stone look we can do that also. No one will know but you.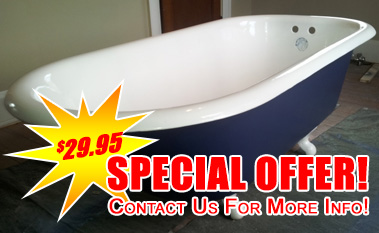 COUPONS
Bathtub refinishing non-skid surface $29.95 regularly $69.95 value. Order placed first time residential customers only.