Tubz technicians are highly trained in more than one school with hundreds of hours experience before going into the working environment. We are family owned and operated so we hold are technicians to a higher standard. If we wouldn't have it in our home we won't have it in yours. Our professional resurfacing technicians know how to give you what you want a beautiful new looking bathroom or kitchen with absolutely no mess when we are finish.
COUNTER TOP REFINISHING
Counter top refinishing can have a dramatic impact on the look of your kitchen. We are able to refinish many different types of countertops. Formica, butcher block counters can easily be updated to modern colors or stone patterns. The newest innovations in countertop resurfacing allows us to offer the look of granite without the high price. Granit is very expensive and often involves some demolition. We offer an attractive, affordable alternative to granite. Our multi-stone application process creates a stone look with your choice of a smooth gloss look or a textured fell and look that cost penny's on the dollar in comparison to granite and installation.
FIBERGLASS TUB REPAIR
Many home improvements companies won't work on fiberglass, we specialize in both fiberglass tub repair and fiberglass shower repair. Our process fortifies the bottom of your tub or shower providing the support to fix it. Without the support further damage could be done while trying to make the repair, the problem that many other companies have encounter.
SERVICES AVAILABLE
Bathtub
Fiberglass shower stalls
Garden tubs
Jacuzzis
Sinks
Vanities
Whirlpools
Tile
Formica
Antique and claw foot tubs
Chip repairs and counter tops
Plumbing
Electrical
Installations
COMMERCIAL/RESIDENTIAL
Apartment buildings, condo associations, student housings, hotel motel operators, relastate, retirement homes, hospitals, schools, and home owners.
APARTMENT TURNOVER
It can take a lot of work to prepare a new tenant once an old one has moved out. Instead of scheduling several different companies to help with the renovations contact us. We simplify the apartment turnover process because we can help with several things including sink, tile, countertop, tub refinishing and carpet cleaning.
PROFESSIONAL BATHROOM REFINISHING VS. DO-IT-YOURSELF KITS:
Bathtub refinishing: Three hour application process/ take a shower same day / will not yellow / will not crack / comes with professional warranty / professional application yields beautiful gloss finish.
Do it yourself kits: Two day application process / take a shower in 7 to 8 days / yellows significantly in several months / becomes brittle and cracks over time / no warranty / amateur application leads to a dry and rough finish product sticks to doesn't bond with surface applied too / peals and or lifts in months / average kit costs $260.00 to $300.00 same as having a professional do it.
WARRANTIES
Money back guarantee
5-year limited guarantee
Licensed & Insured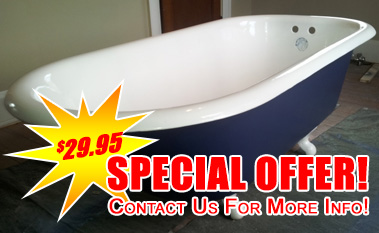 COUPONS
Bathtub refinishing non-skid surface $29.95 regularly $69.95 value. Order placed first time residential customers only.